Custom BBQ Trailers With Grills and More
The Sky Is the Limit!
Here are some examples of custom bbq trailers from Meadow Creek BBQ.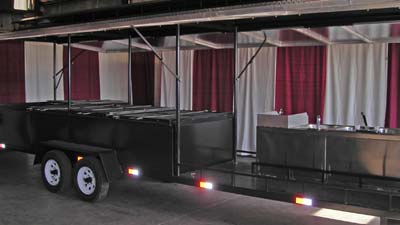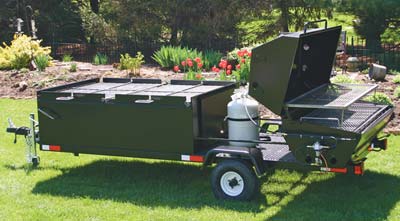 Our Promise
Now that you've learned all the smart reasons to buy a Meadow Creek barbecue cooker, where will you buy it? You can't buy straight from Meadow Creek, so it comes down to choosing a dealer. We (Yoder's Smoky Mountain Barbecue) are the leading online distributor for Meadow Creek, and here's our promise to you:
Prompt and Honest Service: We take calls and emails seriously and do our best to reply within several business days. Sometimes things come up, but we strive to be 100% honest with quotes, lead times, and all.
100% Satisfaction Guarantee: We are dead serious about making and keeping you happy. We'll make sure you're covered in freight damages and help you troubleshoot problems. We offer a 30-day money back guarantee on all our Meadow Creek barbeque equipment (except for Ultimate Caterers). If for any reason you are not happy with your unit, you may return the cooker to us within 30 days of the delivery or pickup date, and we will refund the purchase price minus the shipping and handling. You are responsible to pay the return shipping.
Wow Box: A 3-pack starter kit of Meadow Creek barbecue rub.
Free Phone Consultation: Once you're our customer, we will gladly answer your questions over the phone and help you troubleshoot problems.
Turn frustration into fun and difficulty into delight. Create a custom BBQ trailer, with a perfect arrangement of Meadow Creek cookers and accessories for your catering business. Then get ready to enjoy profitable and easy barbeques for years to come!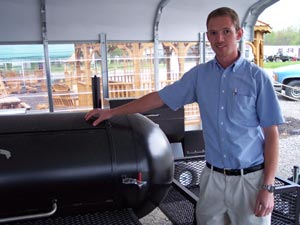 Call us toll-free at (877) 602-1568 and we can help you design your custom bbq trailer. Marlin will be happy to help you design your caterer and give you an estimate of the final cost.
Or if you're close by, come visit our display lot in Kalona, Iowa where we have a limited selection of Meadow Creek equipment in stock.
We look forward to talking with you soon.